When it comes to general maintenance for your car a proper oil change at regularly scheduled intervals is one of the most important things you can do as a vehicle owner. At Aamco of Keller we are commonly asked by our customers "what is the difference between synthetic oil and conventional motor oil"? Our goal is to be your locally owned and trusted Keller Auto & Transmission Repair Shop and to also help educate our customers on any questions they may have regarding their vehicle.
When it comes to motor oil, you have two popular options which include going with conventional motor oil or synthetic motor oil. The differences between the two begin at the molecular level and continue all the way up to how the oil is manufactured and processed. Conventional oil will cost less than the synthetic but will require more frequent oil changes. If you decide to go with the synthetic motor oil – depending on your driving habits it's recommended that you change your oil every 5,000 to 7,500 miles for most vehicles.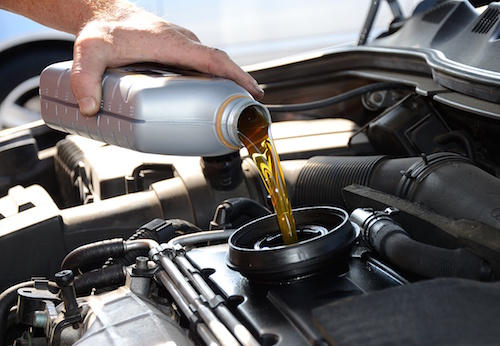 What is Synthetic Motor Oil?
Synthetic oil is nonetheless oil, though it is somewhat man-made. Synthetic oil is made from a base oil, powder additives, and a carrier oil that enforces an even distribution of the additives.
Both synthetic oil and traditional motor oil are made from refining oil. Most synthetics begin with highly refined crude oil, pumped from deep underground. That is the same source as conventional oil. Other synthetic oils use artificially made compounds or a synthetic oil as a base oil. The primary difference between synthetic oil and traditional oil is at the level of refinement.
The base oil falls into one of several "oil grades" from mineral oils extracted from crude (Group I and II) to fully artificial, compound-based oils. All grades of oil are manufactured with additives that increase performance.
Refinement processes and ingredients also result in scientific control over molecular size and purity. That can lower friction, reduce engine sludge, and increase performance. Synthetic oil was first developed in 1929. With technology and access to resources, it has refined to accommodate jets, high-performance vehicles, and everyday consumer vehicles. The need for synthetic oils also comes from technological changes. High-performance vehicles and machinery—from jets that break the sound barrier to industrial plants—have to operate in extreme conditions and temperatures. Highly refined engine oil allows better temperature resistance.
Advantages to Synthetic Oil:
Uniform molecular size means less friction
Refinement and engineering reduce deposits
Additives boost protection and can clean engines
Better function in cold and extreme weather
Cleaner oil with fewer impurities
Full Synthetic vs. Synthetic Blend
Full synthetic oils are better understood as a grade of motor oil. Semi-refined–also called synthetic blend–oils are less refined than full synthetic oil. Semi-synthetic oil blends traditional oil with the more technologically advanced oils. You get the advantage of additives and more refinement. But, the impurities and inconsistent molecular size of conventional motor oil are still in the blend at lower degrees.
The benefit of synthetic blends is largely a cost-vs-benefit decision. Synthetic blends are cheaper than full synthetic motor oil but higher performance than conventional oil.
How often should you change Synthetic Oil in your car?
Synthetic oil is better on your engine and has fewer impurities, it can go longer than conventional oils or synthetic blends. It's important to remember to schedule regular oil change intervals. For conventional oil, twice a year is suggested as a safe way of keeping track. If you want to keep better track, every 7,500 miles is suggested for average cars. You should also change your oil filter every oil change. But, especially if using synthetic oil, every other oil change is sufficient if you don't regularly push your car hard or endure extreme conditions.
Check your owner's manual. Newer cars may be able to go 10,000 miles or only need an oil change once a year. Turbo engines and older cars may still require oil changes every 3,000 to 5,000 miles.
Synthetic oil change intervals range 10,000-15,000 miles or once a year (whatever comes first). Extended performance synthetic motor oil is on the upper top of that range. That extra 5,000 miles may be worth the investment.
Synthetic Motor Oil vs. Conventional Motor Oil
Visually speaking you cannot tell the difference between new synthetic and conventional oil. There are two major differences, however. First, how they are made is a distinction. We've explained that synthetic oil is far more refined than conventional oil.
Second, the way they run in your car is worlds apart. Used motor oil shows a lot thicker and sludgy in conventional oil vs. synthetic oil, given the same amount of wear. Synthetic oil is by far better for performance. It protects the engine due to lower levels of friction. Additives help clean the engine of deposits. And, fewer impurities mean it burns cleaner, thickens far more slowly, and has fewer deposits to start.
"According to industry tests, synthetic oil engines perform 47% better than engines using conventional motor oil." – AAA
Choosing the Best Motor Oil for your Vehicle
A full synthetic oil is the best oil option for any engine. Synthetic oil cuts down the hassles or oversights related to more frequent oil changes and deposits.
If synthetic oil is outside your maintenance budget, go with a blend or rotate between a full synthetic and non-full synthetic every other oil change. Changing car oil will not damage your vehicle. Keep a record to remember the mileage, next oil change date, and type of oil.
It's always best to consult your owner manual to lookup your manufacturer's recommendations on oil viscosity grade and their recommended oil specifications. If you have trouble locating this information feel free to give our team of experts mechanics at Aamco of Keller a call for their recommendations.
AAMCO of Keller – Full Service Oil, Lube & Filter Change
At AAMCO of Keller, TX we know regularly scheduled vehicle maintenance is essential to ensure your car runs great for years to come. An oil and filter change is at the top of any good tech's must-do list. This is one of the most important maintenance services you should do for your car, truck or SUV on a regular basis.
A lot of outside factors can affect the frequency rate in which your vehicle will require an oil change. For example, if you are often in stop-and-go traffic, city driving or go on frequent short trips, you should likely change your oil more often as this kind of driving can work your engine a little bit harder.
To have a better understanding of what your vehicle model requires, like conventional or synthetic oil specifications and what viscosity, refer to your car's owner's manual for the factory's recommendation on engine oil requirements.
AAMCO of Keller is your one-stop shop for all of your car, truck or SUV's repairs and maintenance needs. From the most basic services, like changing oil, fluids and filters, to the most complicated issues, like transmission repair, AAMCO's expert techs have you covered.
We make getting an oil change quick, easy and cost-effective with convenient online appointment scheduling and great money saving special offers to keep you and your family safe on the road.
The Keller AAMCO Full Service Oil & Filter Change also includes our comprehensive Vehicle Courtesy Check® performed by our expert technicians to ensure all major systems in your vehicle are in good working order.
AAMCO of Keller Full Service Oil & Filter Change includes:
Up to 5 quarts of engine oil
New oil filter
Plus AAMCO's comprehensive Vehicle Courtesy Check ®, to ensure all major systems in your vehicle are in good working order.
AAMCO of Keller Your Locally Trusted Oil Change Experts
Keeping you and your family safely on the road is important to us at AAMCO Keller. If you believe you're facing potential issues with your car or need routine maintenance such as a regularly scheduled Oil and Filter change, our expert team at AAMCO of Keller is here to help. Stop into our shop located at 1485 S. Main St., Keller, TX 76248 or contact us today for an appointment.
Have your car properly serviced by the locally trusted experts at AAMCO of Keller. Call us today at (817) 431-0009 or schedule your appointment online now.
AAMCO Of Keller, TX
AAMCO Transmissions of Keller our technicians are the best trained in the industry with not only 20 years experience on new cars but also over 50 years experience in the automotive industry. Our goal is not only to provide the best product in the industry but also the best customer service available. A recent survey showed that over 95% of cars serviced with major repairs at AAMCO are still in service with many reaching the 100,000 mile range without failure.
At AAMCO of Keller we believe that getting the best value for your dollar is the most important part of any repair. That is why all of our services come with a minimum of a one year warranty and not the typical 90 days provided by most repair shops. We use only the highest quality parts available.
AAMCO of Keller is a full-service auto repair and preventive maintenance center. We are automatic and manual transmission experts. We provide transmission service and maintenance as well as transmission flush & filter service. We are conveniently located for your service and maintenance needs and we are qualified to repair and service all domestic and imported cars, trucks, and SUV's using parts that are equal to or exceed the standards of those parts originally used by the manufacturers. We are definitely the cost-effective alternative to car dealership servicing for all scheduled maintenance of your personal or company auto, pickup or truck. Regardless of where it was built, we will service your car or truck and still maintain the manufacturer's warranty. We honor most extended warranties.
AAMCO of Keller is independently owned and operated. We pride ourselves on getting the services or repairs on your auto right the first time by our highly qualified service technicians. So drop your auto, SUV, or truck off today and allow us to provide you with excellent service. We look forward to servicing your vehicle.