Your car's Engine Coolant Temperature Sensor plays a vital role in keeping your cars engine in optimal heat range and not allowing your car to continue to operate above the cars warning level without notifying the driver on the instrument panel of a potential issue. The heat in Texas is no joke in the summer and the team of locally trusted experts at Aamco of Keller are here to keep you and your vehicle on the road safely this summer. Maintaining a level of car tune-ups and preventive maintenance can help catch these potential issues ahead of major repairs.
You may not know when your car could be getting ready to overheat but hopefully your vehicle coolant temperature sensor does. The sensor keeps tabs on the operating temperature and alerts the on-car computer when there's a potential problem.
How the does the Engine Coolant Temperature Sensor Work?
The coolant temperature sensor (CTS) can be found somewhere near the engine thermostat, which allows it to function optimally. The tip of the CTS is probably located right next to the engine coolant.
The sensor works by measuring the temperature that's being given off by the thermostat and/or the coolant itself. The temperature is then sent to the on-board control system. From there, your vehicle's computer will use this temperature information to either continue operating or adjust certain engine functions, always working to keep the engine temperature at an ideal level.
As the control system receives the temperature from the CTS, it may trigger the cooling fan to either shut off or turn on. Additionally, it may signal the need for a richer fuel mixture or open the exhaust gas recirculation.
What happens when a Car's Engine Coolant Temperature System begins to fail?
As with any other component in your car, the sensor can go bad over time and fall into disrepair. This can cause a range of problems, including overheating the engine.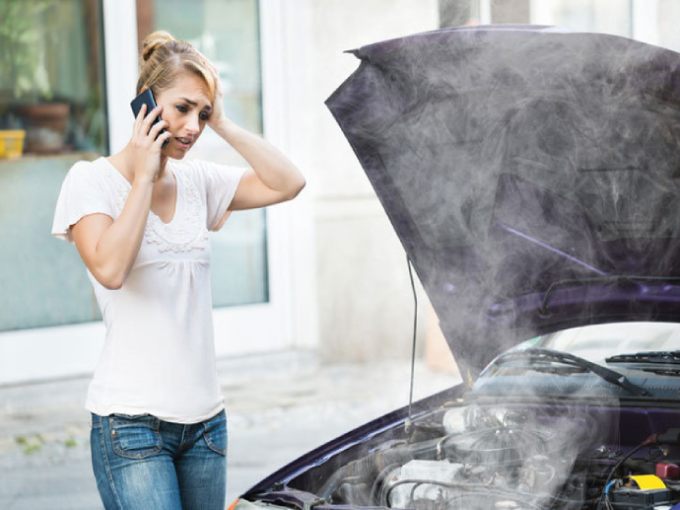 If you know where the engine sensor is and what it looks like, you can conduct a visual inspection to see if it has developed any cracks or fissures. While this visual check can be helpful, it won't help you diagnose every possible problem as some sensor malfunctions can present without visual evidence.
If your sensor is not working, it will send a signal to the computer and your Check Engine light will be illuminated. If you see the Check Engine sign light up, take your car in for professional servicing right away.
Replacing the Car Engine Coolant Temperature Sensor
The sensor will eventually need to be replaced altogether after time. If the engine sustains any kind of trauma or damage, sensor replacement is always recommended because you don't want to risk running the vehicle with a faulty one. Even general wear and tear can cause the sensor to erode over time.
You can always have your Car Temperature Sensor replaced by the trusted auto care professionals at Aamco of Keller. Preventative maintenance can certainly save you some headaches and hassle in the long run.
Aamco of Keller Your Car's Engine Coolant Temperature System Experts
Keeping you and your family safely on the road is important to us at AAMCO Keller. If you believe you're facing potential issues with your car's engine coolant temperature system, let one of our expert AAMCO Keller technicians correctly diagnose your vehicles issue. Stop into our shop located at 1485 S. Main St., Keller, TX 76248 or contact us today for an appointment.
Have your engine coolant temperature system inspected by the locally trusted experts at AAMCO of Keller. Call us today at (817) 431-0009 or schedule your appointment online now.
_____________________________________________________________________________________
AAMCO Of Keller, TX
AAMCO Transmissions of Keller our technicians are the best trained in the industry with not only 20 years experience on new cars but also over 50 years experience in the automotive industry. Our goal is not only to provide the best product in the industry but also the best customer service available. A recent survey showed that over 95% of cars serviced with major repairs at AAMCO are still in service with many reaching the 100,000 mile range without failure.
At AAMCO of Keller we believe that getting the best value for your dollar is the most important part of any repair. That is why all of our services come with a minimum of a one year warranty and not the typical 90 days provided by most repair shops. We use only the highest quality parts available.
AAMCO of Keller is a full-service auto repair and preventive maintenance center. We are automatic and manual transmission experts. We provide transmission service and maintenance as well as transmission flush & filter service. We are conveniently located for your service and maintenance needs and we are qualified to repair and service all domestic and imported cars, trucks, and SUV's using parts that are equal to or exceed the standards of those parts originally used by the manufacturers. We are definitely the cost-effective alternative to car dealership servicing for all scheduled maintenance of your personal or company auto, pickup or truck. Regardless of where it was built, we will service your car or truck and still maintain the manufacturer's warranty. We honor most extended warranties.
AAMCO of Keller is independently owned and operated. We pride ourselves on getting the services or repairs on your auto right the first time by our highly qualified service technicians. So drop your auto, SUV, or truck off today and allow us to provide you with excellent service. We look forward to servicing your vehicle.