The team at AAMCO of Keller aims to educate on customers on common knowledge and potential issues they could face while on the road with their vehicle. A lack of a proper maintenance upkeep if you fail to keep your car maintained with regular tune-ups can make small issues even bigger leading to more costly repairs. This is why we at AAMCO of Keller place the importance of proper preventative maintenance needs to our customers. Axles are an important part of the wheel system but are a component that many vehicle owners neglect. To ensure proper vehicle maintenance, it's good to have a basic knowledge of what the axle does and why it's important. You should also familiarize yourself with how to tell if your axle is malfunctioning and what to do to have it repaired.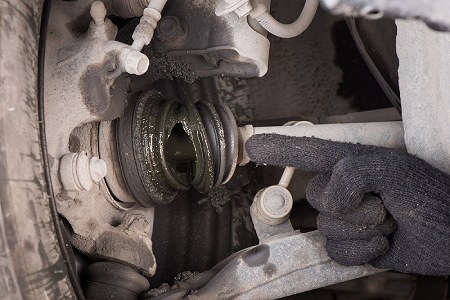 What is the purpose of your Car's Axels?
You should first understand the axle's role within the vehicle. All wheeled vehicles have axles. Axles are used for steering, driving, and braking, meaning they are important for basically every aspect of vehicle use. Essentially, the axles transfer power and torque from your engine to your wheels. In performing this key function, the axle must be able to sustain the entire weight of the vehicle, cargo and passengers. The axle must also withstand the accelerated forces of driving and braking.
Two Types of Axles for your Car
There are two basic types of automobile axle. The first is called the drive axle, which is connected to the driveshaft. The driveshaft is basically just a rod that extends up into the vehicle's transmission and connects with the engine. The engine itself helps turn the axle, then.
The other type of axle is the dead axle, which is not connected to the engine at all. It turns only when the vehicle is in motion, caused by the drive axle. Dead axles are present in your vehicle to help support the weight of the car.
What happens when your Car's Axels begin to Fail?
Since axles have to sustain such tremendous weight, they are obviously made to be robust. Even so, as with any part of the vehicle, the axles can fall into disrepair. Over time, wear and tear can weaken them and perhaps lead to the need for axle replacement.
There are a few telltale signs that your axles are in need of some work:
If you put your car into gear and hear a sudden clunking sound, that's a dead giveaway that there is a problem with the axle.
If you encounter vibrations throughout the car, either when driving, braking, or turning, that could point to an axle issue.
Finally, if your car sounds like it's running fine but it simply won't move, that's clearly a sign that something is awry—and more likely than not, the culprit is the axle.
A broken axle is a serious problem and should not be ignored, for the sake of your safety as well as the health of the vehicle. It is vital that you address a broken axle as soon as possible by taking your car to a reputable mechanic.
Can you Drive with a Broken Car Axle?
If your axles are failing it's very ill-advised and not recommended by our team of expert mechanics at Aamco of Keller. Failing axles are at risk of breaking or completely failing at any point; when your axle fails, you'll lose control of the car, possibly causing an accident or crashing. It's a far better choice to have the problem diagnosed and repaired now, rather than taking that chance. If one of your axles is truly broken or has already failed, you shouldn't try to drive the car. It's not safe and, chances are, you're not going to get far if you don't have two working axles. Which can only add to potential dangers for you and the other drivers on the road.
Keeping you and your family safely on the road is important to us at AAMCO Keller. If your believe you're facing potential issues with your car axels, let one of our expert AAMCO Keller technicians correctly diagnose your vehicle. Stop into our shop located at 1485 S. Main St., Keller, TX 76248 or contact us today for an appointment.
Have your Car's Axels inspected by the locally trusted experts at AAMCO of Keller. Call us today at (817) 431-0009 or schedule your appointment online now.